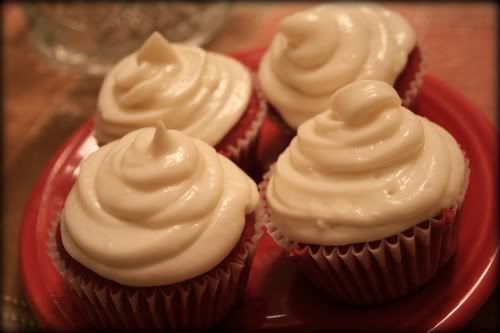 My boyfriend and I visited a Sprinkles cupcake bakery. I ordered the Red Velvet and it was just delicious. I was then inspired to make my own red velvet cupcakes. My sisters were dubious about this endeavor, since the last time that I attempted red velvet; they did not turn out well at all. I carried through with the plan anyway.
I did some research about red velvet, reading reviews on various recipes online. It seemed that reviewers were not happy about red velvet cakes that called for too much cocoa powder. Apparently anything over 1/4c cocoa powder is "too much." This makes the cake too chocolate-y, when the chocolate taste is only supposed to be subtle. I decided to use a recipe that I found on foodgawker.com from annies-eats.com. The recipe is as follows:
Red Velvet Cupcakes
Yield: about 24 cupcakes
Ingredients:
For the cake:
2½ cups cake flour
1½ cups sugar
1 tsp. baking soda
1 tbsp. cocoa powder (I used a little more, trying to find a happy-medium between too much and too little)
1 tsp. salt
2 large eggs
1½ cups vegetable oil
1 cup buttermilk (we didn't have buttermilk, so I made my own by mixing milk and vinegar together)
2 tbsp. (1 oz.) liquid red food coloring (Apparently the little tubes you get at the grocery store are less than 1 oz. So I didn't use quite that much red.)
1 tsp. vanilla extract
1 tsp. distilled white vinegar
I used Elinor Klivan's cream cheese frosting recipe that I usually use (found on my past posts).
Directions:
Preheat the oven to 350° F. Line cupcake pans with paper liners. In a medium bowl, combine the cake flour, sugar, baking soda, cocoa powder and salt; whisk to blend. In the bowl of an electric mixer, combine the eggs, vegetable oil, buttermilk, food coloring, vanilla and vinegar. Beat on medium speed until well blended. Mix in the dry ingredients on low speed and beat until smooth, about 2 minutes.
Divide the batter evenly between the prepared liners. Bake, rotating the pans halfway through baking, until a toothpick inserted in the center comes out clean, about 18 minutes. Let cool in the pans 5-10 minutes then transfer to a wire rack to cool completely.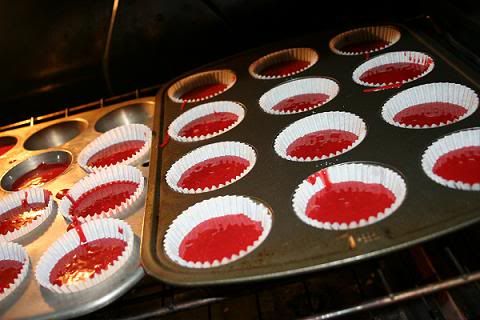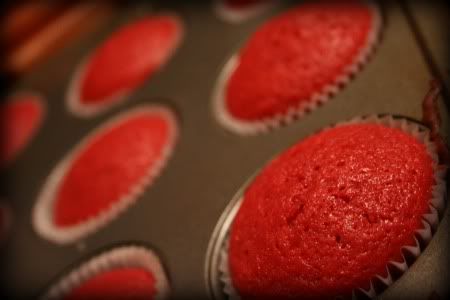 THE FINISHED PRODUCT: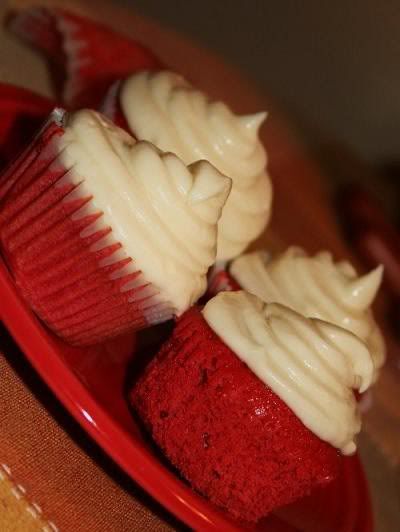 COMMENTS AND CONCERNS:
I had a love/hate relationship with these cupcakes. There was an undeniable bitterness to the cake, tasting like vinegar. This is either because the recipe calls for too much vinegar, or because the vinegar I used for the buttermilk made it too overpowering. My mom was doubtful that my buttermilk creation would be the cause, but I'm suspecting that was it. The taste of the frosting balanced out the bitterness, but not enough for some of my tasters.
As far as the texture goes, I would have probably benefited from removing the cakes from the pan earlier so as to prevent over-baking. They were fluffy, but not as moist as I would have liked.
My mom thought they were good, but was a bit reluctant in concluding that.
My dad said they were delicious.
Aubrey didn't like them at all.
My boyfriend, David, tried to be nice and felt bad telling me the truth; he didn't care for them either.
Kim said she could definitely taste the vinegar but it wasn't bad. But I'm not sure if she actually liked it :p
I got used to the taste of the cupcakes, and when cold from refrigeration, I actually thought they were quite good. But about three days later, after having quite a few, they lost their appeal for me.
I want to try red velvet again but use less vinegar, or maybe even flavored vinegar.