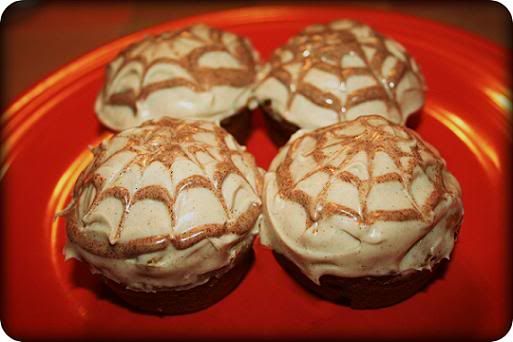 I had been wanting to do some Halloween-inspired cupcakes for this month and finally got around to doing it. I decided on Elinor Klivan's Spiderweb Pumpkin Ginger cupcakes.
I did something new this time in baking; laid out my ingredients "miz en place:"
THE RECIPE:
Cupcakes
1 1/2 cups unbleached all-purpose flour
3/4 tsp. baking powder
3/4 tsp. baking soda
1/4 tsp. salt
1 tsp. ground cinnamon
1 tsp. ground ginger
1/2 cup unsalted butter, melted and cooled slightly
1 cup sugar
1 cup canned pumpkin
3 large eggs
1/4 cup crystallized ginger, cut into 1/8 – 1/4 inch pieces
(I just used a dash of ground ginger because I didn't have crystallized.)
I did this to cool the butter quicker:
Frosting
1/2 cup butter, room temperature
6 oz. cream cheese, room temperature
1 tsp. vanilla extract
3 cups powdered sugar
1/2 – 1 tsp. ground cinnamon
1 – 2 tsp. whole milk
Cupcakes
Pre-heat oven to 325 degrees. Sift all the dry ingredients together and set aside. In the bowl of an electric mixer, beat butter, sugar, and pumpkin until smooth. Mix in eggs and crystallized ginger, and then slowly mix in the dry ingredients until everything is incorporated. Spoon batter into your muffin tin. If you are using a silicone one, you can fill the cups all the way to the top. If not, place cupcake papers into a metal tin and fill halfway. Bake until firm, about 20 minutes or so. Cool on rack.
Frosting
Beat butter, cream cheese, and vanilla until smooth. Add powdered sugar until frosting is smooth and light.
Set aside 1/4 cup of frosting, and mix cinnamon into this until it turns a light brown color. Add a touch of milk, so frosting is thick but pourable. Place in a sealable freezer bag with all air pressed out, and cut a tiny hole in one of the bag's corners. This is now a makeshift pastry bag.
Frost cooled cupcakes with white frosting then, using the brown frosting, pipe a dot in the center of the cupcake, and two concentric circles around the dot. Drag a toothpick from the cupcake center to the edge to create the spiderweb pattern.
The spiderweb pattern was difficult only because my extra frosting for the design wasn't firm enough. I kept trying to get the balance of milk and cinnamon right. I added too much milk and tried to harden the thing by putting it in the fridge… but I just didn't get the right consistency. I was able to do the design, but it dripped down the sides a bit. I also would have liked the color of the webs to be darker. But overall, I was pleased with my attempt.
THE FINISHED PRODUCT:
COMMENTS AND CONCERNS:
My entire family was pleased with the results and thought the cupcakes were very good.
David's mom said they were delicious and David liked them too.
I thought they tasted very good as well, but I would have liked there to be a stronger pumpkin taste. David thought there was a nice balance of flavors. But I would add more pumpkin next time I make these