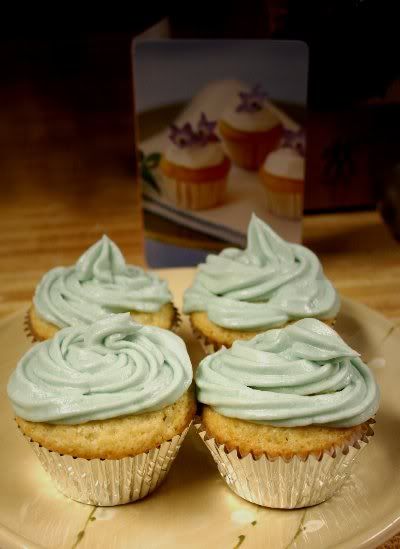 (Spring Bouquet Cupcakes made August 6th)
It may have been inspired from the new show,
Cupcake Wars
, or by hearing about the new idea of having cupcakes at weddings instead of a big cake, or just by random ideas... that I decided to take up the hobby of baking cupcakes.
My first attempt was Red Velvet Cupcakes. This turned out to be somewhat of a disaster, primarily because I didn't have the right ingredients. Yes, I am aware that that is quite a vital element in baking, but I was eager to do something and was at the same time, too impatient to wait for the ingredients. I also assumed that the things we didn't have could be easily substituted. I was incorrect. The cupcakes crumbled to pieces when I took them out of the pan and were peculiar in taste due to the hint of raspberry iced tea (a substitute that was not entirely my idea.)
Following my belief to waste as little as possible, I made an ice cream cake with the crumbs. It was all right, but not good enough to try again.
My second attempt was Yellow Cake with Cream Cheese Frosting. I was quite fond of the frosting, but the cake itself was dry. I think I over-cooked them.
My third, and most recent attempt was, by far, the best yet.
My boyfriend, David, bought me "The Cupcake Deck" by
Elinor Klivans.
It's a box of 25 cupcake recipes.

The ones I made first are called "Spring Bouquet Cupcakes." I know it's not Spring and I didn't include the bouquet part (using edible flowers as garnish.) I chose this recipe because it seemed like a good and simple one to start with. I made the cupcakes at my friend Kim's house. :)
As I began the task, my two sisters crowded around me, watching my every move.
"You know, it's rather awkward doing this when you're crowding me," said I.
"Yes, but we're just making sure you're doing all right," said Aubrey.
"Well... you just tend to make a lot of mistakes. And we want these to be good."
Eventually, they let me alone.
And I did make mistakes. They are as follows:
Used one egg-white instead of one egg-yolk. My sister, Amelia, caught my mistake after the fact. "I see yellow in the sink. That must mean that you used egg-white instead of the egg-yolk. Oh, Abby."
I put too much salt in the frosting by accident and therefore had to add a lot more sugar to balance it out. This made the frosting a bit overly-sweet.
Burnt my left index finger on the baking pan as I took it out. (small burn about the size of a pebble.)
I should wait a little longer before putting on the frosting. It melted on some of the cakes.
Next time I use a frosting squeezer, I will try to do it more efficiently. It became a very messy task.
And now for THE RECIPE:
Batter for 12 regular cupcakes, 9 big-top cupcakes, 6 extra-large cupcakes, or 42 mini-cupcakes
Cupcakes:
1 1/4 cups unbleached all-purpose flour (I used half cake-flour and half all-purpose. It seems that Elinor Klivans uses all-purpose, whereas, other cupcake recipes use cake-flour. I found that using cake-flour made the cupcakes more light and fluffy, as opposed to dense and thick.)
1/2 teaspoon baking powder1/4 teaspoon baking soda
1/4 teaspoon salt
1 large egg1 large egg yolk
1 cup sugar
1/2 cup canola or corn oil
1 teaspoon vanilla extract
1/2 cup sour cream

Frosting:
1/2 cup (1 stick) unsalted butter, at room temperature
2 tablespoons vegetable shortening, such as Crisco, at room temperature
1/8 teaspoon salt2 1/2 cups powdered sugar
5 tablespoons heavy whipping cream
1 teaspoon vanilla extract1/2 teaspoon almond extract

Position a rack in the middle of the oven. Preheat the oven to 350 degrees F. Line 12 muffin tin cups with paper cupcake liners.
Cupcakes:
Sift the flour, baking powder, baking soda, and salt into a medium bowl and set aside.

In a large bowl, using an electric mixer on medium speed, beat the egg and yolk (or eggs, for the larger quantity) and sugar until thickened and lightened to a cream color, about 2 minutes. Stop the mixer and scrape the sides of the bowl as needed during mixing. On low speed, mix in the oil and vanilla until blended. Mix in the sour cream until no white streaks remain. Mix in the flour mixture until it is incorporated and the batter is smooth.
Fill each paper liner with a scant 1/4 cup of batter, to about 1/2 inch below the top of the liner. Bake just until the tops feel firm and a toothpick inserted in the center comes out clean, about 23 minutes. Cool the cupcakes for 10 minutes in the pan on a wire rack. Remove the cupcakes from the pan onto a wire rack and let cool completely.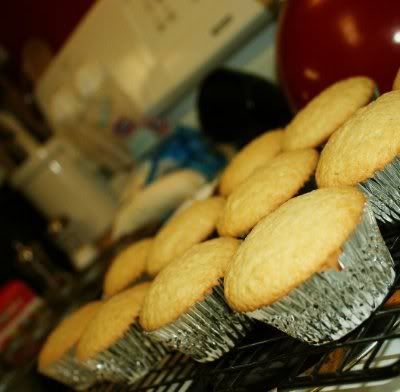 Frosting:

In a large bowl, using an electric mixer on low speed, beat the butter, vegetable shortening, and salt to blend them. On low speed, beat in the powdered sugar, cream, vanilla, and almond extract until smoothly blended, then beat on medium-high speed for 1 minute to lighten the frosting.

Kim suggested I use some food dye to make the frosting interesting. I used a few drops of blue.

Using a thin metal spatula, spread about 2 tablespoons of frosting evenly over the top of each cupcake.
(I used a frosting squeezer. It was incredibly messy.)

THE FINISHED PRODUCT:
COMMENTS AND CONCERNS:
Aubrey: "Mmmmmm. Very good. Delightful. Ahh, I see a bright future for these cupcakes... I also see some fat, fat, people."
Kim: "Yes, very good. The cake is very buttery."
Amelia: "They're good. But the frosting is too sweet."
Mother: "They were good, Abby...but to be honest, the frosting was just too sweet. I couldn't eat it all. Well, actually, I did eat it all, but still..."
And my assessment is that the cake was just the right texture and was moist. The frosting was good, but yes, too sweet. If I hadn't added too much salt and therefore too much sugar, it would probably have been better.
I took and edited the photos, another hobby of mine. I love how food looks on
foodgawker.com
and I want to model that with the photography of my cupcakes.
Well, that's all for now!